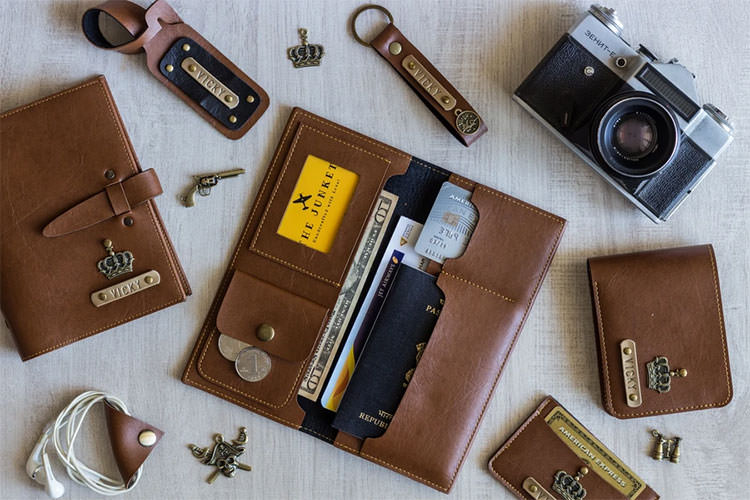 Smart Travel Products for Smart Traveller!!!
We all like to travel and travel smartly. By smartly, we don't mean smartphones but that we ensure there are no end minute shocks to our holidays on which we have spent weeks planning. Traveling overseas alone or with your family entail passports, visas, forex, hotel bookings and other loose vouchers that needs to be organized smartly.
To ensure that you stay on top of your trip, we have curated some travel accessories to suit travellers traveling solo, with your partner or with family.
Personalized Passport Cover – This product does the job efficiently. While it protects one of the most important document that you have i.e. the passport cover online and it's also personalized with the color that you want, your name and a charm(s). Each member of the family can have their own personalized passport cover which is unique and can be easily identified. Our personalized passport covers comes in over 50+ colors and over 100+ charms to choose from. It's a must have for every traveller. We have also introduced MR & MRS PASSPORT COVERS with charms and are perfect gifts for couples. 
Frequent Flyer Passport Cover – This is the most sought after items from our range. We call this the FREQUENT FLYER PASSPORT COVER because it can easily hold upto 2 passports, 2-3 debit/credit cards, forex and few loose papers such as visas. This is ideal for travelers who call the sky & the airport their second home. Its compact, razor sharp and the does the job with a punch. Frequent Flyer Passport Cover also comes in range of colors and can be personalized. It can also be doubled up as passport wallet.
Travel Folder – This item is a true multi-tasker. Our traveI folder can easily pack all document items related to your trip. Travel folder can easily pack in your passport, boarding passes, hotel bookings, cash, cards and coins. Its longer than the passport cover and true to being a folder. Its stylish and comes in various colours and can be personalized with your name and charm. A must have in your travel checklist. Travel folder is ideal for a long sojourn where you are traversing multiple countries and cities.
Luggage Tags – How about adding a dash of color to your luggage and making your bags stand out and easily identifiable. Our dual tone luggage tags are funky, cool and helps you identify your luggage easily from a distance. Our luggage tags are easy to attach and remove from your luggage. They have extremely high durability and are personalized with your name.
Men's Wallet – All our mens wallet are extremely durable and look ultra uber. Mens wallet come in 5 colors and all can be personalized. Choose a charm that defines you and pair it up with your name. Stand away from mundane.
Women's Wallet - All our women's wallet are extremely durable and look ultra chic. Womens wallet comes in over 5 colors and all can be personalized. Choose a charm that defines you and pair it up with your name. Stand away from ordinary. They can easily contain multiple cards and cash. Extremely spacious and it also has a zip lock for valuables. And our women's wallet are conversation starters.
Button Purse – Button purse a life saver. Perfect if you are rushing to the market for that quick purchase or simply heading out for a cup of coffee with colleagues/friends. Button purse can easily hold cash, cards and your mobile. Button purse are stylish and comes in cool colors.
Travel Pouch – Travel pouch is a must have for your travel. Its spacious, stylish and suave. It can be used both by him and her. It can easily contain all the shaving essentials for men and all the essentials for her. Travel pouch are spacious, easy to maintain and looks extremely stylish. They come in various colors and can be personalized.
Accessories Pouch – Accessory pouch can easily fit all your grooming or make up items. Almost everything can go in it. Its ultra-spacious and roomy. Its rectangular size makes it easy to fit in any bag or suitcase. All grooming, make up, shaving items can easily fit in it. Accessory pouch come in various colors and are personalized.
Money Clipper – Money clippers are new age wallets. Ideal for those who prefer cash slightly more than plastic. Although our money clippers can easily keep cash and has slots for cards aswell. It can also be personalized.
Wire Organiser – We seriously believe there are these little elves in all our bags - wreaking havoc and entangling wires. I couldn't catch them or get rid of them. Then we got these cute little personalised wire organisers and voila! No more elves. Its perfect companion for your ear phones. Its small, light and does the job.
Banking Folder/Document Folder
– In the age of digital payments, cheque books are vanishing. We all get them when we open accounts but when was the last time you were able to locate your cheque book.  It comes and its forgotten or its torn from sides. Our cheque book holder can easily contain 2-3 cheque books or important travel documents and are safely guarded. The
banking folder/document folder
are personalized and are perfect gifting ideas for him or her.