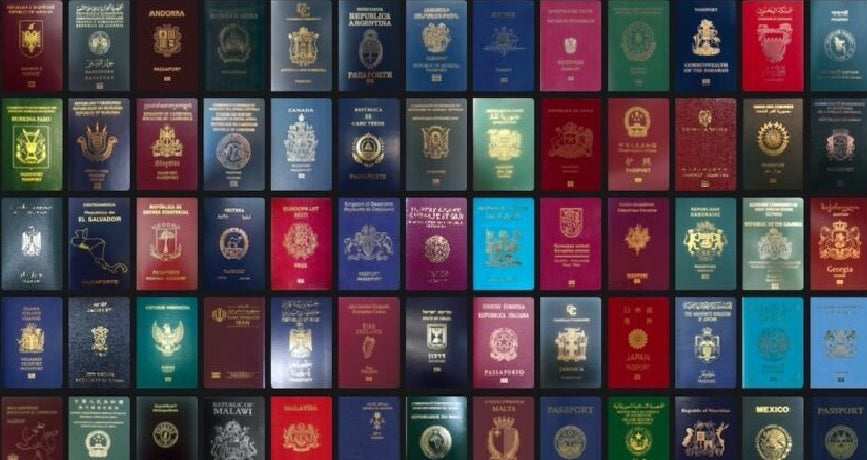 The Most Powerful Passports In The World!
If there is one thing common amongst all these colorful and filled passports that we carry, is that they have the power to take us where we wish. Have you ever wondered about how there are some countries that require you to get a visa prior to traveling and others don't? Here, we will look at the whys and whats of this curious endeavor.
Passport Power
Different passports from different parts of the world have different powers that they possess. According to the Passport Index organization, these passports are ranked according to their Mobility Score. Mobility score is a calculated total based on the number of Visa-free, Visa-on-arrival, eTA, and eVisa issued within 3 days of entering a foreign country from their native land. The higher the Mobility Score, the higher the Passport Power Rank. Countries are ranked by the number of passports they accept visa-free or with visas on arrival.  
Indian passport: Past and present
Now that we know how passports are ranked, we should know a little bit about our Indian passport, its history, and its current status according to the Henley Passport Index of 2021. The current version of the Indian passport is the version that was finalized in 1986. Since then, the passport has seen some changes not only in build but also in its power. Earlier, back in 1920, the Indian passport was issued by the British and it had limited travel opportunities to a handful of places like the British Empire, Italy, Switzerland, Austria, Czechoslovakia, Germany, France, Spain, Norway, Sweden, and Holland. The Indian passport currently stands a little low on the list around the 84th position tied with countries like Tajikistan and Gabon. Individuals holding the Indian passport can travel to 19 countries visa-free and 33 other countries with a visa-on-arrival facility. The countries are:
Countries Indians can visit Visa-Free
Indonesia
Seychelles (permit on arrival)
Jamaica
Senegal
Serbia
Trinidad and Tobago
Haiti (for up to 90 days)
Micronesia
Ecuador
Dominica
Vanuatu
Svalbard
Saint Kitts and Nevis
Grenada (for up to 90 days)
Saint Vincent and the Grenadines (for up to 30 days)
Montserrat (for up to 180 days)
Turks and Caicos (for up to 90 days)
El Salvador
Macau
Countries Indians can visit Visa-On-Arrival
Thailand
Maldives
Laos
Mauritius
Cambodia
Bolivia
Hong Kong (Need to do pre-arrival Registration)
Fiji
Palau
Macedonia
Saint Lucia
Ethiopia
Tuvalu
Mauritania
Comoros
Guinea Bissau
Guyana
Togo
Cabo Verde
Angola
Barbados
Cook Islands
Iran (apply online & obtain 'Submission Notice' before departure)
Kiribati
Nigeria (only pre-approved VOA)
Samoa
Suriname
Tunisia
Somalia
Kenya
Zimbabwe
Rwanda
Jordan
Most and least powerful passports
This brings up the question of which is the most and which is the least powerful passport of them all? The one that reigns supreme over all others in the list of being able to take their bearers to whichever country they desire. Well, that country happens to be the one that is also one of the most technologically advanced countries. Japan! Leading the list, Japanese passport holders can travel to a whopping 193 countries.  Japan's power has held up very well on the list despite the travel ban on countries because of COVID restrictions all over the world. 
Being close to the top in the second place, we have Singapore, closely followed by South Korea and Germany in the third place. People bearing a Singaporean passport can travel to 192 countries and 191 for the Germans and South Koreans. 
Learning all of this about our passports has certainly given us a new sense of appreciation for our little travel buddies. In their honor, we present you with a bunch of stylish passport covers to heighten your travel experience and give them the royal treatment that they deserve. 
References
https://www.prnewswire.com/ae/news-releases/japan-has-the-most-powerful-passport-but-only-in-a-post-pandemic-world-301265366.html
 Vazira Fazila-Yacoobali Zamindar (2007). The Long Partition and the Making of Modern South Asia. Columbia University Press. p. 162. ISBN 0-231-13846-6.
https://mea.gov.in/visa-facility-for-india-nationals.html