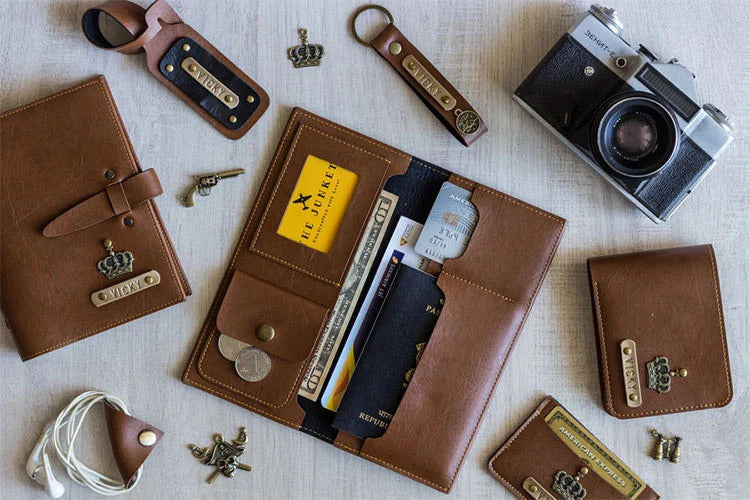 How to personalize your passport?
Personalised Passport Holder - The Perfect Gift for Your Significant Other
Are you planning your next trip as a couple? If so, then surprise your significant other with the perfect travel accessory - a personalised passport holder. Or, if this is your first trip as a couple you can also get matching Mr and Mrs passport covers.
Various brands, especially those offering personalised gifts can help you personalise passport covers. Most often the inscription includes only alphabets and numbers. The names are inscribed in capital letters to make them look sleek and stylish. Personalized travel accessories can make the travelling memories with your partner even sweeter.
7 reasons why you should surprise your partner with a personalised passport cover
Rekindle the desire to travel - Want your partner to take you on a vacation? Rekindle their desire for travel with a matching set of passport covers. If your partner loves travelling, then they will not be able to resist showing off their new passport cover. And you will get your romantic getaway with your loved one.
Protect against wear and tear - The primary reason for using or gifting a passport cover is to protect it against wear and tear. If you're an adventurous couple and like going on exciting trips, then there is a higher chance of your passports being exposed to the elements. Get matching passport holders and never worry about damaging your passports again.
Stay organized - Gifts like luggage tags and passport covers help people stay organised. Luggage tags are especially helpful if you need to keep track of your bags while travelling in a group. Personalised tags and passport cover make it easier for others to recognise the items. and return it to the owner in case you lose it.
Travel in style - Your fashion statement isn't just restricted to your clothes and accessories. You can express yourself through your travel accessories as well. Leather exudes class and elegance. Always travel in style and elegance with your fashionable leather passport holder.
Create a personal impact - If you're gifting your partner a personalized passport cover, make sure to create a personal impact. Choose a small charm that depicts a story or an inside joke just between the two of you. Or, pick something that will make them smile. The abundance of choices for colours and charms will ensure your impact on the gift.
Never lose your passport - When your passport looks stylish and attractive you will never forget carrying it with you. And the personal engraving makes it more memorable even when you're travelling.
Insta-worthy moments - Nowadays, people often live by the philosophy, "If it is not on Instagram, did it even happen". And travelling with your partner is a memory to be cherished forever. Memorialize your trip by creating the most aesthetic Instagram-worthy picture, showing off your elegant Mr and Mrs passport covers.
Wrapping Up
Personalised passport covers aren't just stylish, but also functional. A perfect travel accessory for a traveller. Gift your significant other a matching set of passport covers to rekindle their love for travelling, create Insta-worthy moments, create a personal impact and travel in style. You can also use it to maintain organization skills, keep track of your passport and protect it against the elements.
Next time you're fretting over a gift for your partner or thinking of making your next trip special, just get a passport holdercustomised from The Junket for you and your significant other.